Benefits of Business Cards
Having a business card may seem, a priori , a detail of little importance for many entrepreneurs . However, these small chips are very useful to publicize a business and increase the number of customers. On this occasion we are going to tell you what are the main benefits of business cards , since having these small cards will give you the opportunity to spread your entrepreneurial project and make it a success. Accompanied with the ideal business card design of your business, it only gets better.

Benefits of  business cards is that they are portable, can contain all the information for potential clients to reach out to you, being affordable to obtain, carries your brand and works hand-in-hand with other marketing efforts. It's small but weight more than its cost as marketing material for your organization.
1. You can carry them anywhere
The small dimensions of the business cards allow them to be transported from one side to the other with total comfort inside a card holder or even in a pocket or wallet.
This will help you make new clients anytime, anywhere, since you never know when you might run into someone interested in your services.
If you always carry a business card with you, you can offer it to that person who has been interested in your business and get them to remember you when they get home.
2. Can contain a lot of information
Another benefits of business cards is the large amount of information that they offer.
A business card is a quick and practical solution for the customer to instantly know all the key information they need about the company. What is the name of your company, what is the name of the contact person, their email, their phone … All this relevant information fits in the palm of your hand!
And it is that, to day of today, they can not only include the name of the company, the address, the web page and the contact telephone; at present they can also be accompanied by a QR code that facilitates access to an online portal that provides more information about the business.
If you are an entrepreneur, the costs of business cards do not have to worry, since there are many establishments in which you will find them able to print for you in cheap prices.

They also can come in various types of finish and materials that makes it stand out and memorable in the eyes of potential clients. You can also turn them into magnets or bookmarks that people will use.
4. It carries your brand image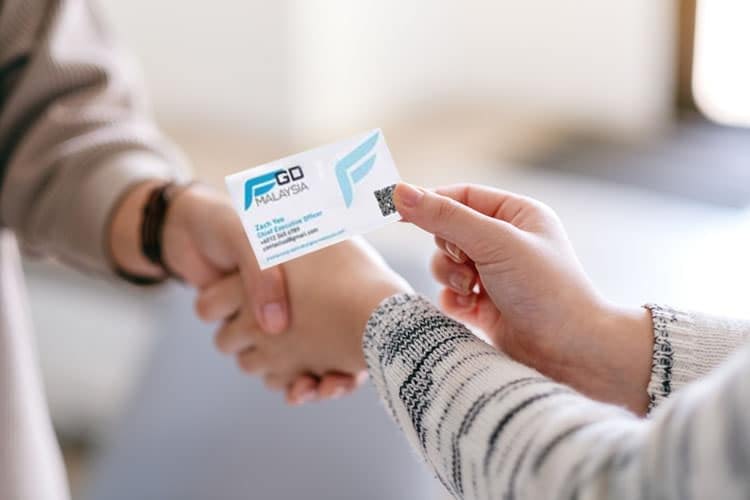 If you offer a business card to people and companies interested in your business, you will have greater credibility as an entrepreneur and, in addition, you will create a brand image. Especially if you bet on a design that includes the logo of your entity and the corporate colors that define it.
A business card is a very easy way to make yourself known. It represents the perfect excuse to start talking with a potential client and publicize the services and / or products that your company offers. All in just an instant and without stealing a minute of time from the people who receive it. These business cards are also usually delivered at meetings, conferences, trade shows and networking events, to get them to remember both you and your company. Reinforce the brand image of your company and you will reach the top!
5. Complementary to other marketing strategies
Business cards not only combine perfectly with any marketing strategy, but they can also reinforce all the techniques you use to disseminate your entrepreneurial project , so it is not necessary to use them in isolation to offer excellent results.
You can take advantage of the back of the business card with creative approaches such as including coupon codes, map and more.
we would like to highlight the importance of having a physical advertising medium as a contrast to the new digital communication media.
Nowadays, we are all so used to everything being online and intangible, that when we have in our hands a detail in physical and material form it surprises us and remains in our memory.
These are the main benefits of business cards. Thinking of creating your own business cards? Trust our local designers to come up with the best name card design for your brand. Get in touch with us, we will be happy to help you get started!