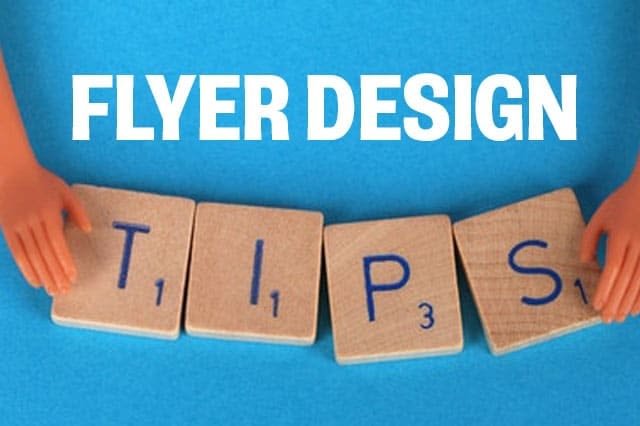 Designing a flyer is a great idea to advertise a promotion and reinforce your brand in a specific geographic area . Many companies come to Freelance Graphic Designer Malaysia, seeking advice on designing a flyer and professional advice when printing it. We believe that designing a brochure in any advertising format requires knowledge of graphic design and marketing, that is why we have written this article with 10 flyer design tips.
1) Set a clear objective for your flyer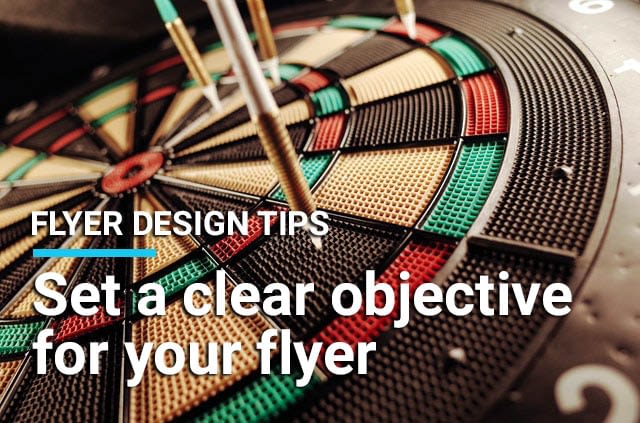 Many times we come across clients who want to make a flyer, but they don't know why! A flyer is one more corporate communication and marketing strategy. For this reason, it must be very well defined and directed. Only then, we can truly appreciate the true advantage of flyers can bring to our business.

Giving a concise and clear message will allow the recipient to fully understand the value of the offer, promotion or information. Opening your business? A 20% discount on your best products? The change of location? The normal and most effective thing is that a flyer design is thought for a single objective.
Another interesting point is the target audience: who do you want to deliver the advertising flyer to? Even if yours is a nightclub for middle-aged people, you should not give the flyer to people younger or older than your  target . Why? They just won't be interested and will throw away the flyer as soon as they get it.
Take, for example, the flyer designed for a children's hairdresser. The normal thing would be that the target audience would be the parents of the children who are, after all, the recipients of the service. Hence, its design has a childish touch, striking but that denotes confidence for its target. Design as to the target group. Can't emphasize the importance of this flyer design tips enough.

Flyers are usually designed from top to bottom. The way we read (from top to bottom and from left to right) "educates" us that way, and to design a flyer we have to be consistent with the habits of our customers.
Because of this, when organizing and prioritizing content, it is best in most cases that the important part is located at the top of the advertising flyer .
This is a great part of the receiver being able to know what the thing is about even before stopping to read it.
3) Highlight what's important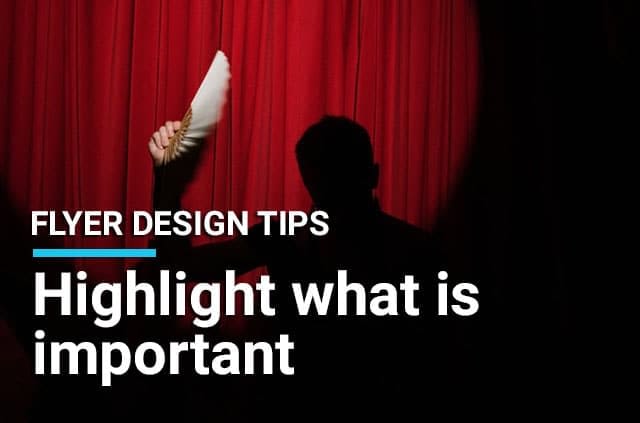 Every flyer has a purpose. On the next flyer design tips, bring to light on what is important. What do you offer? Promotions? A discount coupon? The opening of your new store? Put it BIG. A flyer is not a technical document, you can play with the words, their sizes, thicknesses … Also, of course, with the color, the backgrounds or the images to make the recipient of your flyer notice what you are promoting the first time. .
You have to make your intention clear in about 2-3 seconds . Without the recipient of the advertising brochure stopping to read it, with just a glance, they can identify what you are offering.
Next on flyer design tips, pick the right quality image. In advertising and marketing, a picture is worth a thousand words . If we want to represent an idea, as in the case of flyer design, using illustrations or photos of the highest quality is vital.
In the vast majority of cases, when designing a flyer you will need a certain amount of photos taken from image banks (in many paid cases) or your own illustrations .
If you bet on real images of the products of a store, of the human team of a company or of a real estate home, it will be necessary to have the help of a professional photographer. We cannot allow the flyer to project a bad image of our company.
The objective of this is to achieve a spectacular design that gives a professional and incredible image of those behind that flyer that one finds in the mailbox or receives on the street.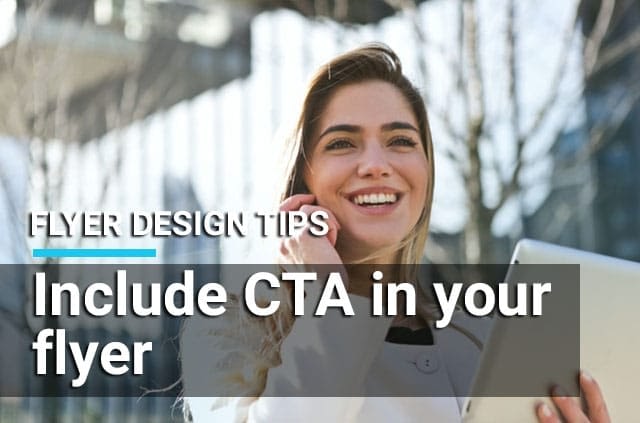 This is a very important flyer design tips that we must include in our designs. A CTA ( Call to action ) is a term widely used in marketing, which is translated as a  call to action . In short, it is an indication that is made to the recipient to take a specific action.
This may be a "Call us!" or "Complete the form on our website." It is proven that those corporate messages that have a CTA in their design get more conversions than those that do not.
If you decide to put a CTA in your flyer design, make sure it stands out and is as short and memorable as possible.
6) 100% readable contact, even from a distance
Contact is an important part of the flyer. So much so that it must occupy a good part of it.
Why? In most cases, the advertising flyer reports an offer or business opening, so it makes sense to include a location. Does your business have no physical location? A website or phone number is still a valid contact.
It is essential that it is well visible and indicated , in case it is a location. So the receiver can orient himself perfectly when the public receives the flyer.
7) Design your flyer in bleed
In the vast majority of cases your flyer will be better if it is designed in bleed. That is, if at the time of receipt from the press, you do not have the white edges of the print . However, you don't necessarily have to make the entire design right on the edge, just the photograph or the accompanying motif.
A bleed flyer design offers a more professional and reliable feel . If not, they might look like photocopies made with the office printer.
Of course, avoid forcing things. Not all designs accept this absence of bleeding. The best thing is that you have a professional to design the flyer or advise you. Simple but one of the crucial flyer design tips.

8) Have a powerful message that draws attention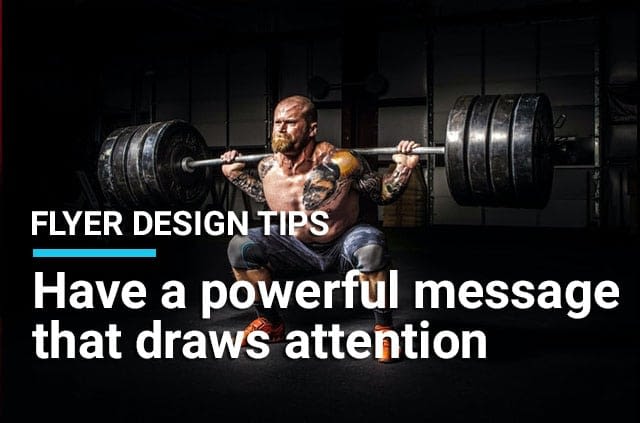 In advertising you have to deliver your message in a matter of seconds. If in the first impression you have not fallen in love with the recipient, you no longer have anything to do . For this reason, you must create a first contact that is as striking as possible, within your brand identity.
That's where an attractive slogan or powerful images come into play (because the message doesn't have to be just text). The layout of the content and the design of the flyer itself also shapes the message you want to launch, don't forget this vital piece of flyer design tips!
9) Be consistent with your business and sector
After all, a flyer is part of a communication strategy. As such, it has to be encompassed in a business identity and in line with "what moves" in a sector.
For example, it would be strange for a housing development to use a typeface such as handwritten and very vibrant colors. In the same way, in few cases you will see a children's party park advertised with a sober flyer.
To design an attractive advertising flyer for the sector in which you operate, it is essential to stay on the fine line between doing the same as always and giving the cante.
10) Trust professionals as a safe value
Next flyer design tips: No matter how good your cousin is with Photoshop, it is best if you entrust your flyer design to professionals. We know all the flyer design tips that can make it great! In addition to having the tools, you have to have the knowledge and talent to design.
The typography, the colors and their composition, the image-text ratio, the quality of the printing… There are many factors to take into account when creating a corporate flyer.
As we always say, your business is you, your team and your communication . It is useless if you do things better than anyone else and cheaper if your target audience does not perceive it.
For this reason, it is best to entrust the creation of marketing strategies and advertising elements with third parties. At Freelance Graphic Designer Malaysia, we are experts in flyer design, and our way of working allows us to do it for the best price on the market and with an impressive finish that will make you reach your audience more and better. Hope these flyer design tips help you to grasp the essence of a good flyer.